Dear Friday,
I'm so happy you are finally here! Half day at work and plane ride to see my sis-in-law and bloggy friends!
Dear Pilot,
While you might then "bumps" in the air are normal, they are not, and they make me nervous. So if we could keep that to a minimal this afternoon I will enjoy this flight to the max.
Dear Tisa,
I can not wait for the next few weeks to pass! We are going to have an amazing time in Cali.
Dear Closet,
Can you please magically put together a few amamzing outfits for me that are cute and comfy, oh and go ahead and pack them while you're at it.
Dear Refreash 2013 Sponsors,
Thank you!!! You are going to rock the SWAG bags at this weekends retreat and I can't wait to share everything about it next week!
Dear Aimee,
I LOVE my new logo and can not wait for everything to be done! It is going to be amazing!
Dear Hubs,
I love you love you and wanted to say thanks for the girls weekend.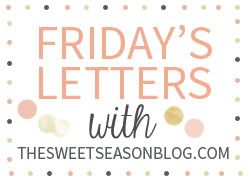 Pin It