Dear Elle Dee Designs,
I'm so happy that you are keeping my busy! I think its time to get us some help. I promise I'll work on it.
I can't say that I am sorry enough, I hate that you are so neglected.
You are working too hard at your new job and I miss our daily emails.
Dear Rachel, My hair stylist,
You rock! I love my cut and I love my new color. Thanks for making my day.
What would I do without you.
I think we can agree that our relationship is best when we met during lunch and after work. This 0600 meet up seems to end up in my forgetting my bra, and going to work with my bikini top under my scrubs. Just isn't going to work out for me.
Dear Dino Hoodie,
Who would have thought you would ever be so popular?
Dear Mom and Dad,
I miss you!
Dear Hubs,
I'm very proud of you for working so hard, dedicating your free time to school. Thanks for still making time for me.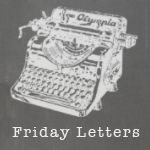 Pin It