If you've been around for long you know I love two things, swaps and books. So you can imagine how excited I was when I saw that The Sweet Green Tangerine and Friends were hosting a BOOK SWAP! Now that's what I'm talking about! I love reading and recently converted over to using my iPad for checking out books from the library and new book purchases. There is something to be said for holding an actual paper book in your hand. On occasion I am drawn to used book stores just to get my paperback fix. Anyways, on with the swap....
The mystery of who you're paired up with and followed by the mandatory stalking of all social media to "get to know" your swap partner. These are the key things to a good swap in my opinion. I was paired us with Meghan of Shine On. So I checked out her good reads, twitter, and blog. What I found made my day, the girls loves Nora Roberts as much as I do! Which was clear since we both sent each other one of her books.
I have to say I feel bad, I sent Meghan her book with a quick note. I was rushing to get it in the mail and not forget about the mailing deadline. When I got Meghan's package she had spoiled me! I got the awesome above mentioned book, but she also included these adorable owl magnetic book marks and an awesome mini book light! Meghan I promise I'll make it up to you next time we partner up!
Do you swap? What is your favorite so far? Do you have one in the works? Share so I can check it out!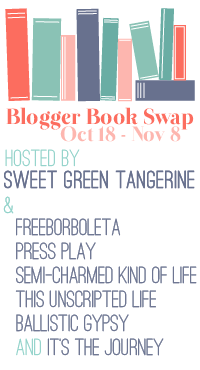 Pin It