Dear Hubs,
Have I told you lately how proud of you I am? Well, I'm really proud of you. Thank you for being my Hubs.
Dear Tisa,
Sad you are in OKC without me, but I know you are going to totally rock it!
Dear Santa,
I've been pretty good this year, just sayin'.
Dear Craigslist,
Please find people who wants my old random Living room furniture so I can make room for the beautiful new furniture that is coming:)
Dear Radio,
I really don't like Christmas Music. I know, I'm weird. Unless you want me to complete give up on you please play some non-Christmas music too!
Dear Vacation,
I need you!
Dear 4 Day Work Week,
You rock! I love being home on Thursdays to work on Elle Dee Designs and catch up on life.
Dear Legs,
Thank you for getting me through the Dirty Girl Mud Run, sorry for that fist size bruise on the calf. The wooden wall was harder than I thought.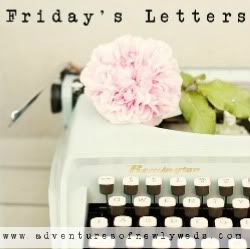 Pin It