Dear Siri,
You make me laugh.
Dear Mom and Dad,
I'm super excited to be heading to your house today.
Dear Nora Roberts,
I think I might be close to reading every book you've written, I have a few select favs that I would like you to continue the series on.
Dear April,
You started off with 85 degree days, I'm totally for it, but hubs has different feelings.
Dear Office Elves,
Could you please stop sneaking in my office and linking all of my paper clips together. This is driving me crazy!
Dear Legs,
I wish I was better at the tan in a bottle. You are so white, like blind you white!
Dear Dr. D,
Thank you for sticking up for me when that patient mom tried to cuss me out. I'm sorry she cursed at you too.
Dear Wrist,
You hurt me. Its hard to type with this stupid brace on, but I'm hoping it helps make you feel better.
Dear Movie Night,
You sure are fun.
Dear Hubs,
Again, thanks for putting up with my big bag of crazy!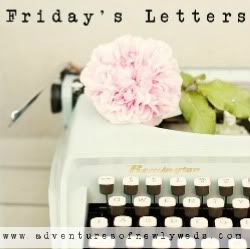 Pin It