Dear Hubs,
So Friday was rough, and I really did bust out that bag of crazy. Thank you for making me talk it out and making it better. I love you.
Dear Neck,
Really, a strain with just 2 days until the Diva Dash.
Dear Diva Dash,
I'm pumped. Just wish I had a whole team of ladies going with me. Maybe next year.
Dear Mom,
Glad you are here, can't wait to go shopping tonight. It's about time we looked for dresses to wear to the wedding.
Dear Lady @ the used bookstore,
I really enjoy our chats when I come in to exchange my books. Your daughters upcoming wedding sounds beautiful.
Dear D,
I'm so happy you are coming to Austin again this summer. I have missed you.
Dear SNAP!,
I think we are going to have a date next year.
Dear Guy at the Gym,
I don't know what it is, I just have a hard time sitting next to you while you ride the bike and breath like you are in labor. Sorry for any strange looks I may have given you.
Dear God,
Thank you for giving me peace when I needed it most and didn't even realize it.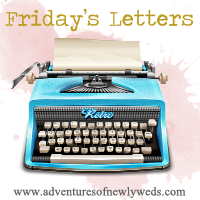 Pin It