I ordered the scrabble tiles on ebay, but you can find them at garage sales, etsy or other online vendors. Cork sheets from your local craft supply store. E6000 Wonder glue:) and an xacto knife.
I decided how wide I wanted the coasters to be and started gluing them down. Since I didn't purchase specific letters and didn't plan to actually spell anything I wanted to make sure I didn't spell anything inappropriate on accident. I stuck STUDS in there only because it was the only thing I could spell with my letters.
After everything was dry I simple cut through the cork with the xacto knife. Make sure that you are using a crafting/cutting mat under your project so that you don't accidentally damage the surface of the table top.
When each coaster was cut out I applied a thin coat of wood finish to bring out the color of the tiles as well as waterproof them.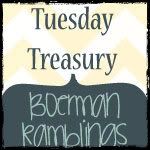 Pin It