I can't believe that this is week 10 of 1LW.I have really enjoyed linking up at It's a Long Story each week and reading all of the other posts. I can't tell you how inspirational it is for me to see what your little word was and see that you have had many of the same successes and struggles that I have had in this journey.
I have continued to try and be Positive...
...Positive Conversations
...Positive Relationships
It is bigger than I ever imagined it would be. Trying to keep your entire life in check is work! Who would have thought?
Really that's all I an do, Think Positive Today. It is a single day at a time challenge. I can't worry about the rest of the weekend. I'm struggling with the next 5 minutes...no gossip...no complaining...don't think bad about that person on the phone. One minute at a time, constantly reminding myself.
This week I didn't focus, I didn't give it the time and focus that it needed. I don't think I was terrible, but I didn't strive to be great either. This week will be different, this week will be awesome. I need your help, pray for me, pray for happy and kind thoughts. Thank you.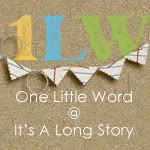 Pin It