Dear Plumber,
I wish you had written my phone number down correctly, I have now wasted a morning sitting at home waiting for you. I will be thinking about you all week when I go into work early to make up my wasted time...
Oh, and I'll just go buy the part and fix it myself!
Dear Birchbox,
Where are you? When will you get here?
Dear Friends and Family,
Why do so many of you have to get married in the same year? 5 really? I just can't do it.
Dear Nora Roberts,
Thank you for writing so many mindlessly entertaining books. You can make hours go by in a blink.
Dear Dad,
I'm jealous that you are hanging out with A.
Dear Readers,
Go enter the giveaway from yesterday. Hurry do it! Good prize:)
Dear Megan,
Thank you for your note and gift, it was sweet and unnecessary.
Dear FatMumSlim,
Thank you for putting out another PhotoADay Challenge!
Dear Friday,
Thank you! Thank you! I can't wait till 5 o'clock today.
Dear Bloggers,
Get rid of the Word Catcha thingy, you are probably missing out on lots of comments from readers, because that thing is so frustrating;)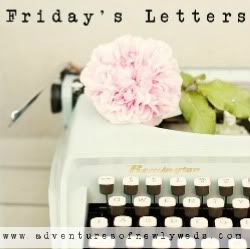 Pin It