Dear Self,
Why do you use so many exclamation points?
Dear HR,
I'm seriously nervous about my interview today!
Dear Mom,
Glad you are hear to visit, had fun thrifting with you yesterday.
Dear Blog,
I enjoy you SOOOO much.
Dear Target,
It's pay day...I'm coming for that new purse I saw last week;)
Dear Butterflies in my Tummy,
Go away! I don't need you.
Dear Face,
I know you don't like make-up, I'm not all that into it either. Today it had to happen, get over it.
Dear Hubs,
Thanks for the encouraging words and sweet email yesterday. You made me have happy tears.
Dear Summer,
Bring it!
Dear Elle Dee Designs Readers,
So happy you crossed over in the "merge" of the two blogs.
Dear Insta-Life Linkers,
The party will be tomorrow. Too much happening today, please come back.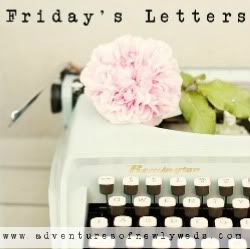 Pin It