Dear iPhone 3GS,
RIP
Dear iPhone 4S,
Welcome to my world! Why do you have to be so expensive?

Dear Chapstick,
Thank you for ruining a great night with hubs by making your way into the dryer and ruining an entire load of laundry, mainly hubs work clothes!
Dear Overstock.com,
Thanks for saving me a bundle and letting me buy more:)
Dear Tisa,
Thanks for telling me about Overstock.com.
Dear Hubs,
So happy that you had a fun birthday!
Dear Ladies at the Gym,
First lady, you cracked me up you where rocking out the music overhead and made me start my workout happy. Second lady, not cool to sing along with your ear phones when there are people around you. I was trying to read a book and that other lady was watching tv. You did have a nice voice though:)
Dear Barton Springs,
I got a season pass, I'm really going to try and make it count. Could you warm up just a little for me.
Dear Summer Shows,
I'm ready for you! Rizolli & Isles, The Glades, Rookie Blues oh and Secret Life.
Dear Work,
I wish we had summers off.
Dear Insta-Lifers,
We are moving to Saturdays! Come back to tomorrow and link up your photo posts!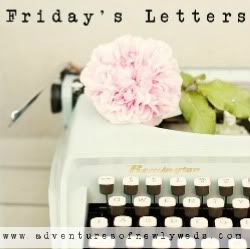 Pin It