Dear Hubs,
Sorry I went all crazy on you the other day and left without saying bye. I'm glad you called me to tell me you love me. I'm really glad you're still willing to put up with my crap!
Dear Dr. B,
I can't believe you are leaving. I'm really going to miss you.
Dear Swap buddies,
I've had so much fun! When is the next swap?
Dear Birchbox,
You are everything I thought you would be and more. Thank you for the great first impression.
Dear Erin Condren Planner,
You have made my life a better place. So glad I have you to keep me together.
Dear Tisa,
I'm glad we are going shopping tomorrow. I'm looking forward to another weekend with some girl time. Oh, and I'm pumped about the trip!
Dear Baby G,
I'm so excited to be your Auntie, I can't wait until the 5th when we find out if you are a boy or a girl!
Dear Self,
Why did you become a nurse and not a party planner?
Dear Friends,
Why won't any of you do the Shape Diva Dash with me? I'm totally bummed and don't want to do it alone.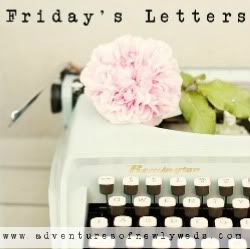 Pin It