A list of sorts, of 10 things. Any 10 things, totally random.
Since I am sitting at my desk...at work, sadly not at home, I think today's list will be the
10 things I would do if I had today off of work.
I think I need this awesome printable to keep it all together...
Isn't it awesome! Check out Life's a Journal on Etsy to purchase a notepad of them or their website for the free awesome printable!
So with out further a do, here it is...
1. Hit the gym for the Body Combat class {these are never at convenient times for the working women}
2. Cook a tasty meal for Hubs
3. NAP
4. Read an entire paperback book
5. Finish re-organizing the bathroom and write my post about it
6. Spend hours on Pinterest looking for crafts to add to my list
7. Spend time with Hubs before he has to go to work
8. Drop off the clothes in the back of my car at Goodwill
9. Bake something I found a recipe for on Pinterest, just because
10. Spend an hour each at Target and Hobby Lobby with no purpose other than they are my happy place
Linking up with: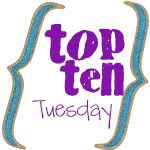 Pin It