When I tried and write down all of the things I'm thankful for this week, the list was pretty long. So today I highlight a few of them rather than a Plain Jane list.
Time with hubs: Our recent vacation was the first time since before we got married 2 years ago that we have really taken time out to just spend with each other. It was amazing and I am very thankful for it.
I read a wonderful, encouraging book...in one day. Yes, it was that captivating that I just couldn't put it down. It taught me that I may never be the perfect wife, but if a love and fear my God, I am being obedient and the other things tend to fall into place.
The past few weeks have been a wonderful blessing to me. I joined an online group of Christian women. Some are friends I've know for some time while other are new. These women are amazing and I love that we share everything from prayer requests, book suggestions, ideas and so on. I can not tell you the encouragement that I have taken away from our daily interactions.
What are you thankful for this week? Join us as we link up with: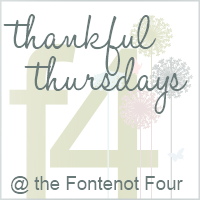 Pin It